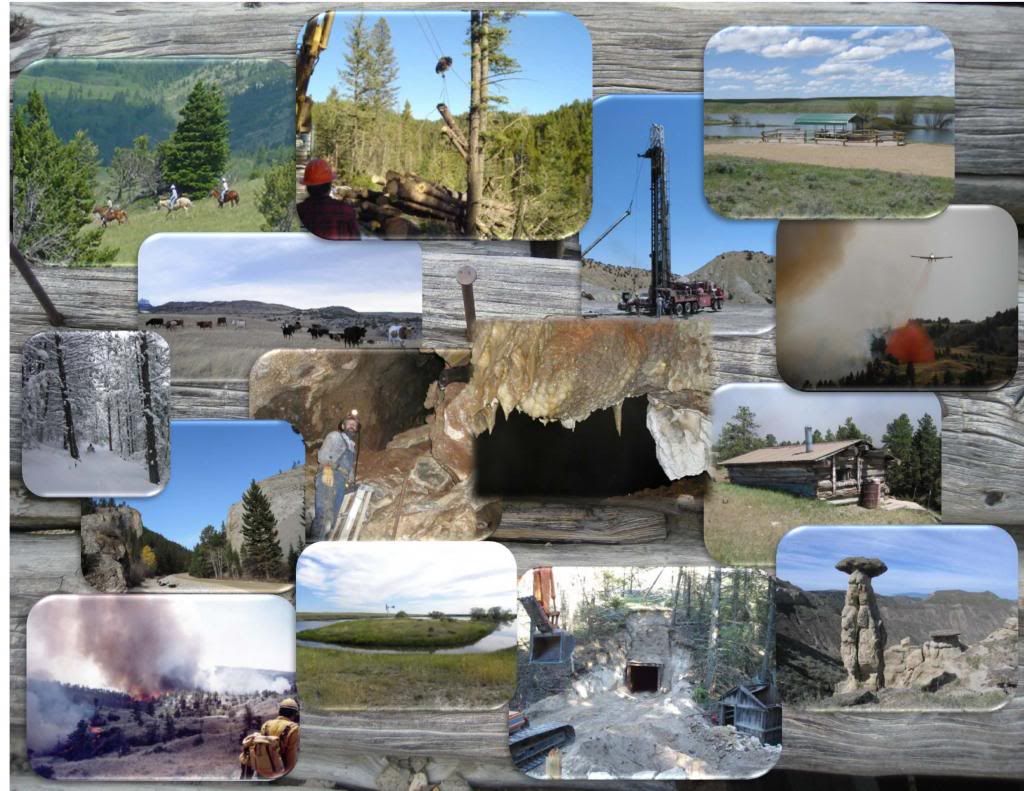 Anticipated Planning Issues and Management Concerns
A Planning Issue is identified as a matter of controversy or dispute over resource management activities or land use that is well defined or topically discrete and entails alternatives between which to choose. Management Concerns are topics or points of dispute that involve a resource management activity or land use. While some management concerns overlap planning issues, a management concern is generally more important to an individual or a few individuals, as opposed to a planning issue, which has more widespread point of conflict. However, certain resource values (e.g., cultural resources) will still play pivotal roles in developing alternatives and reaching decisions regarding the major issues.
The planning issues and management concerns presented below are preliminary and based on the best information known to date. It is expected that additional issues may be identified during scoping. Preparation of the resource management plan (RMP) will afford many opportunities for collaboration with local, state, federal, and tribal governments as well as land management agencies, public interest groups, and public land users. As a result, these issues may need to be modified and refined to reflect public comments and concerns raised during formal scoping.
Preliminary Planning Issues
The following sections identify planning issues based on RMP evaluations, new Bureau program guidance, and Lewistown Field Office (LFO) staff input. For each issue identified, a planning question is presented, and information that will be considered in answering that question is identified. The questions and information will be refined during public scoping and throughout the planning process.
Issue: Vegetation Management
Past and current management activities, such as timber harvest, road construction, mining, recreation, and/or effects of activities on surrounding private lands continue to affect the natural function and condition of riparian areas, upland vegetation communities, and forested areas. Riparian and wetland habitats, including streams, springs, seeps, and meadow areas, are of critical importance to fish and wildlife species. Healthy riparian, upland and forest communities have good species diversity and structural integrity, and are resilient following natural disturbances such as fire. They provide fish and wildlife habitat, soil stabilization, increased infiltration of precipitation, watershed protection, and enhance recreation and aesthetic values. The BLM Standards for Rangeland Health and Guidelines for Livestock Grazing Management for Montana, North Dakota, and South Dakota (Record of Decision (ROD), August 1997) identified and incorporated five specific standards into the process for evaluating rangeland health. These standards include upland health, riparian health, water quality, air quality, and habitat (biodiversity). The ROD relating to rangeland health and the subsequent standards will be incorporated into the LFO RMP.

Planning Questions
How will BLM lands be managed to achieve, maintain, or improve riparian, upland, and forest communities, with an emphasis on native species restoration?
What rangeland, forest, woodland, wetland, and riparian plant communities currently exist on the landscape and, in what amounts, and what are the desired plant communities?

Preliminary Planning Considerations
Maintain, improve, and restore natural functions to benefit water storage groundwater recharge, water quality, and fish and wildlife values
Issue: Noxious Weeds and Invasive Species Management
Noxious weeds and other invasive plant species can affect native plants, special status species, wildlife and livestock forage, water quality, and fire management. The BLM is responsible for controlling noxious weeds on public lands and coordinating with state, county, and private landowners to reduce the establishment of undesirable plant species by implementing integrated weed management. Areas of noxious weed infestation and invasive plants are being mapped and will be used in development of the RMP. The RMP will incorporate policies and strategies detailed in the Vegetation Treatments Using Herbicides on Bureau of Land Management Lands in 17 Western States Environmental Impact Statement (EIS) (Final Programmatic EIS, 2007). The RMP will also address additional practices or preventative measures to be applied to all resource activities and uses, such as the use of certified weed-free seed mixtures, feeds, and mulches for reclamation and restoration practices. The incorporation of the use of weed-free forage and the emphasis of restoration of disturbed areas, including specific seed mixes, will be included in all alternatives.

Planning Questions
What actions and/or restrictions will be needed to maintain or improve natural resource values that have been affected by, or are susceptible to, noxious weeds and other undesirable plant species?

Preliminary Planning Considerations
Issue: Fish and Wildlife Habitat
The planning area contains a diversity of important habitats for a variety of fish and wildlife species. Habitat quality has been modified as a result of roads, timber harvest, wildfire, fire suppression, recreation, and grazing. Where public lands ownership patterns are highly fragmented, protection and/or improvement of fish and wildlife habitats is more challenging. The key to maintaining quality wildlife habitats is large blocks of diverse, healthy vegetation and plant communities. Fish habitats also require high water quality and good stream channel and riparian conditions.

Planning Questions
What are the priority game and non-game species found in the planning area, how are they distributed, and what are their habitat requirements?

Preliminary Planning Considerations
Identify habitat conditions and needs in cooperation with MFWP, Montana Department of Environmental Quality (DEQ), and other land management agencies including U.S. Forest Service (FS), U.S. Fish and Wildlife Service (FWS), Montana Department of Natural Resources (DNRC), and the Blackfeet Indian Reservation
Issue: Special Status Species
Special status species include plant, fish, and animal species designated as Endangered, Threatened or Proposed under the Endangered Species Act (ESA), or as BLM sensitive species, including Greater Sage-Grouse. The planning area supports habitat for a number of federally listed and BLM sensitive species. Habitats for special status species are affected by roads, timber sales, wildfire, grazing, recreation, and habitat fragmentation.

Planning Questions
What are the special status species within the planning area and what are their distribution, abundance, population condition, current threats, and habitat requirements?

Preliminary Planning Considerations
Issue: Recreation and Visitor Services
Public lands provide for a wide array of recreation opportunities within varied settings. Outdoor recreation use levels in both developed and undeveloped recreation settings are increasing. Increased use creates an elevated demand for facilities, user information, and access. The RMP should assist BLM in providing access to the public lands and to ensure quality environmentally responsible outdoor recreational opportunities, experiences, and benefits for the growing number of public land users.

Planning Questions

Preliminary Planning Considerations
Issue: Travel Management and Access
Many tracts of public land, large and small, within the planning area have no legal access for the public. Population growth, rural and urban development, and increasing recreational activity have resulted in an increased need for access to public lands. If landowners are willing and funding is available, the BLM can negotiate and purchase easements for public access.
The Department of the Interior's (DOI's) Strategic Plan calls for ensuring environmentally sound public access to recreation sites on public lands. The goal of improving access to appropriate recreation opportunities is also one of the BLM's top priorities.
Motorized travel and transportation (all-terrain vehicle (ATV) and off-highway vehicle (OHV)) use has grown in popularity in some areas. The BLM has prepared new manual guidance for Trails and Travel Management as well as the development of several strategies (i.e., the National Off-Highway Vehicle Management Strategy and National Mountain Bicycling Strategic Action Plan) for improving the way the road and trail systems are managed on public lands. These strategies provide a foundation for the development of a comprehensive travel management program.

Planning Questions
How will transportation and public access be managed to improve access, protect resources, reduce conflicts of use, and provide motorized and non-motorized recreation opportunities for public land visitors?

Preliminary Planning Considerations
Comply with Executive Orders 11644 and 11989 (provide for public safety, minimize damage to soil, watershed, vegetation, and other public land resources, minimize harassment of wildlife or significant disruption of wildlife habitats, and minimize conflicts between OHV use and other existing or proposed recreational uses)
Ensure compatibility of area OHV designations with designations and conditions on neighboring federal, state, county, and municipal subdivisions, taking into account safety, noise, and other related factors
Issue: Forest Management
The planning area includes forest lands that provide wildlife habitat, watershed protection, recreational and aesthetic values, and forest products. Fire suppression and harvest activities of the past century, prolonged periods of drought, and historical harvesting methods have changed the pre-settlement character of tree species composition and stand densities. This has led to an increased fire risk in these areas and to altered disturbance processes, including insects and fire, in many areas. Studies of timber vegetation type and structure and timber stand plots will be used to determine existing age, structure, and composition of forest/woodland areas so that desired outcomes can be identified per the H-1601-1 Land Use Planning Handbook.

Planning Questions

Preliminary Planning Considerations
Consider desired composition; access; public demand for forest products; effects of drought, insects, and disease; and wildlife habitat
Issue: Wildland Urban Interface
The planning area includes areas of expanding wildland urban interface. Within these areas, we will address opportunities to: (1) identify broad treatment levels, (2) identify general restrictions on fire management practices (suppression and fuels management) if any are needed to protect other resource values, and (3) restore fire-adapted ecosystems. The RMP will also address emergency stabilization and rehabilitation activities on landscapes and communities affected by wildland fire through the use of community wildfire protection plans (CWPPs) as prescribed by requirements of the Healthy Forest Restoration Act and local fire management plans (FMPs).

Planning Questions

Preliminary Planning Considerations
Where possible, use local contractors, equipment, and services to maximize the economic benefit to the community
Incorporate guidance and direction defined in the Federal Fire Policy, the National Fire Plan (NFP), and associated policies and guidelines, including multi-agency collaboration for fire, fuels management, and budgeting, and the Fire/Fuels Management Environmental Assessment (EA) Plan Amendment for the Montana/Dakotas (2003)
Issue: Fire Management
Vegetation fuel types in the Lewistown planning area can be described as grass, shrub, and timber. Central Montana typically burned with mixed severity fires and a fire return interval of 5 to 30 years (longer in the higher elevation forest types). The past 100 years of successful fire exclusion, advancement of succession in forest ecosystems, and extended fire return intervals in short-grass prairie and shrub lands have resulted in increased fuel loadings. When added to the significant outbreaks of insects and disease in forested areas and increasing non-native plants in the grasslands, the result is higher potentials for increased fire size, frequency, intensity, and severity. The influx of people to the area will increase the probability of human-caused fires.

Planning Questions
How can fire suppression actions be managed to minimize the adverse effects to public health and safety, private property, and resources while providing for beneficial ecological processes?

Preliminary Planning Considerations
Issue: Livestock Grazing
Livestock grazing in the Lewistown RMP planning area occurs within numerous intermingled allotments containing BLM and other federal lands and private, state, and grazing district lands. Percentages of BLM public lands within these allotments range from less than 10 percent to 100 percent of an overall allotment area. The LFO currently authorizes grazing on 590 grazing allotments. There are approximately 66 unallocated parcels. The Butte Field Office administers grazing on approximately 14 allotments within this planning area. Allocations and adjustments will be evaluated within alternatives, as described in IM-2012-169, taking into consideration other resource values and forage demands within the planning area. Unallocated parcels will be evaluated for suitability of livestock grazing. Criteria for issuing grazing permits/leases or identifying parcels to remain unleased will be developed and incorporated into the Lewistown RMP.
The need to improve range condition; range management options when forage resources are affected by drought, insects, or fire; the need to maintain and improve wildlife habitat through the modification of livestock grazing (permitted use and season of use); recreational uses; and the need to maintain the economic stability of the local livestock industry will be considered in the plan. In addition, the Lewistown RMP will address concerns regarding rangeland health, selective management categories for individual allotments, and maintenance of social and economic factors in affected communities within the planning area.

Planning Questions

Preliminary Planning Considerations
Conform with existing laws, regulations, and BLM policy pertaining to livestock grazing on public lands
Protect important biological resource functions that provide for soil stability, water quality, and healthy riparian and upland vegetation communities
Issue: Land Tenure Adjustments
The workload and cost to manage small tracts of public lands within the planning area are high because of the scattered land ownership pattern. Many parcels of public land are less than 640 acres in size, have no legal access, and contain limited management opportunities. Land tenure adjustments through purchase, exchange, and donation have the potential to provide greater efficiencies in management, reduced workload, and reduced costs. It also allows for the acquisition of parcels with high public resource values.

Planning Questions

Preliminary Planning Considerations
Issue: Delineation of Right-of-Way Corridors and Sites
The planning area contains a number of utility, transportation, and communication rights-of-way. The locations of some of these existing rights-of-way may or may not be suitable for expansion or development into utility corridors, communication sites, and/or wind energy sites. It is important to identify or delineate those corridors and sites in order to effectively manage the public lands and to minimize the impacts from the proliferation of separate rights-of-way.

Planning Questions

Preliminary Planning Considerations
Public lands will generally be available for transportation, utility, and communication site rights-of-way, except: (1) where there is a need to protect other resource values; (2) areas specifically identified as avoidance and exclusion areas; or (3) where specifically prohibited by law or regulation


Issue: Minerals and Energy Development
The planning area has the potential for the development of solid minerals, fluid minerals, and energy. Mineral and energy development can affect a variety of other resources, although these effects can be reduced through carefully developed mitigations such as reclamation, hazardous materials management, avoidance areas, the use of BMPs, and mineral withdrawals.
In addition to the mineral and energy development activities, there are concerns about abandoned mine lands and the hazard abatement associated with such activities. This ongoing process involves BLM and other federal and state agencies. The planning effort will identify or mention the following consistent with the goals and objectives for natural resources within the planning area (see Planning Handbook Appendix C, II, H):
- Areas open to leasing, subject to existing laws, regulations, and formal orders; and the terms and conditions of the standard lease form.
- Areas open to leasing, subject to moderate constraints such as seasonal and controlled surface use restrictions. These are areas where it has been determined that moderately restrictive lease stipulations may be required to mitigate impacts to other land uses or resource values.
- Areas open to leasing, subject to major constraints such as no-surface-occupancy stipulations on an area more than 40 acres in size or more than 0.25-mile in width. These are areas where it has been determined that highly restrictive lease stipulations are required to mitigate impacts to other lands or resource values. This category also includes areas where overlapping moderate constraints would severely limit development of fluid mineral resources.
- Areas closed to leasing. These are areas where it has been determined that other land uses or resource values cannot be adequately protected with even the most restrictive lease stipulations; appropriate protection can be ensured only by closing the lands to leasing. Identify whether such closures are discretionary or nondiscretionary, and if discretionary, provide the rationale.
The plan will identify, for each lease stipulation, the circumstances for granting an exception, waiver, or modification, as well as identify the general documentation requirements and any public notification associated with granting exceptions, waivers, or modifications.
The planning effort will clarify and determine whether the development decisions also apply to geophysical exploration and whether constraints identified in the land use plan for new leases also apply to areas currently under lease.
In addition, the plan will identify resource condition objectives that have been established and specific lease stipulations and general/typical conditions of approval and best management practices that will be employed to accomplish these objectives in areas open to leasing. In addition, long-term resource condition objectives will be identified for areas currently under development to guide reclamation activities prior to abandonment.

Planning Questions
Under the principles of multiple use and sustained yield, how will mineral and energy development activities be managed to provide for products while preventing undue or unnecessary degradation to other natural resources?

Preliminary Planning Considerations
Identify BMPs, mitigation, and conservation measures that are necessary to minimize effects of development
Issue: Special Designations
The planning unit contains a number of special designations such as the Square Butte Wilderness Study Area (WSA), Blacktail Creek Paleontological Site Mineral Withdrawal, outstanding natural areas (ONAs), and areas of critical environmental concern (ACECs), the Lewis and Clark National Historic Trail (NHT), the Nez Perce NHT, and the Continental Divide National Scenic Trail (NST). These special designations provide management direction specifically designed to protect the resource values for which the area was designated. There may be resources that are best protected by additional designations, and there may be designations that are no longer necessary. In addition, the streams and rivers in the Headwaters RMP area have not been evaluated under the wild and scenic river (WSR) guidelines.

Planning Questions
Where are special designations appropriate to protect unique resource values?

What other rivers in the planning area are suitable for WSR status?

What is the nature and purposes of the Nez Perce NHT, the Lewis and Clark NHT, and the Continental Divide NST?

What public land area will be established as national trails corridors (NTCs)?

What management practices will occur to manage NSTs and NHTs so as to safeguard the nature and purposes of the trails in a manner which protects the values for which they were designated?

What allowable uses, management actions, and necessary restrictions should be established within the NTCs?

How will other BLM programs and uses be managed within the national trails management corridors?

Are there any national trails related lands within the planning area that should be acquired?

What level of coordination will occur to ensure the NTCs edgematch with adjoining BLM field offices and other agencies that administer these corridors?

Preliminary Planning Considerations
Evaluate all rivers and streams in the planning area for eligibility under the Wild & Scenic Rivers Act. Complete a study recommending which eligible rivers are suitable for inclusion in the National Wild and Scenic River System, in accordance with BLM Manual 8351, Wild and Scenic River Policy
Comply with the National Trails System Act, in accordance with BLM Manual 6280, National Scenic and Historic Trail Policy
Management Concerns


Management Concern: Air Quality
The RMP will summarize all relevant background air quality and climate information associated with the planning area and identify all potentially affected Class I areas as well as actions that could be taken to protect these areas. The plan will identify area-wide criteria or restrictions that would be applied to any activity authorized by the field offices to ensure compliance with all local, state, federal, or tribal air quality standards and implementation plans. Authorized activities include, but are not limited to, fuels management and energy development.

Preliminary Planning Considerations
Comply with procedures in the Memorandum of Understanding (MOU) among the U.S. Department of Agriculture, U.S. Department of the Interior, and U.S. Environmental Protection Agency regarding air quality analysis and mitigation for federal oil and gas decisions through the National Environmental Policy Act (NEPA) process which was signed on July 23, 2011.
Management Concern: Water Quality/Quantity
Standard procedures regarding permitting practices required by federal and Montana State laws will be identified in the RMP. The BLM will work closely with Montana DEQ, MFWP, plus tribal, federal, and local laws regarding water quality planning and management. Data to be examined will include, but are not limited to: the Montana DEQ's identified impaired streams (303(d)), Montana's Streamside Management Zone Law, riparian condition, water rights, land jurisdiction, water quality, and water quantity data. The Lewistown RMP will identify and consider: BMPs that the State of Montana and its cooperators (including the BLM and the U.S. Forest Service) have developed and distributed for use by federal land managers, including particular BMPs developed for watersheds as a result of the 303(d)/Total Maximum Daily Load process; Standards for Rangeland Health assessments; BMPs for grazing; and existing MOUs with the State of Montana.
Management Concern: Soil Resources
Soils will be managed to maintain or improve soil health and productivity and minimize impacts to soil resources through the actions of management activities. The BMPs, mitigation measures, and reclamation will be implemented at the site-specific activity/project level to prevent or reduce soil erosion, compaction, and return soil productivity; especially, for soils with severe erosion susceptibility, sparse vegetation, shallow depths, and on steep slopes. If soil impacts cannot be mitigated or effectively controlled, then the activity/project could be relocated or denied.
The RMP will utilize available soil data to make informed decisions for a variety of resources and resource uses. State Soil Geographical Data (STATSGO) and Soil Survey Geographical Data (SSURGO) are available for all counties in the planning area.
Management Concern: Cultural Resources
The planning area contains many significant prehistoric, historic, and cultural areas. Recreational activities, unintentional trespass, theft, erosion, and vandalism are all sources of cultural resource degradation. Protection of cultural resource sites may include: identification, evaluation, monitoring, stabilization, and interpretation.

Planning Questions

Preliminary Planning Considerations
Management Concern: Tribal Treaty Rights and Trust Responsibilities
Sacred sites, cultural landscapes, traditional cultural use areas, and other trust resources within the planning unit require inventory, consultation, and protection to meet our trust responsibilities. Treaties ratified by the U.S. Congress and federally recognized tribes confer special legal rights to use public land. Effective consultation and coordination is the key to achieving management goals for both the tribes and the BLM.

Planning Question

Preliminary Planning Considerations
Management Concern: Tribal Interests
Under all alternatives, BLM would continue to notify and consult with appropriate American Indian tribes on BLM authorized actions. Consultation and coordination would be conducted on a government-to-government basis with federally recognized tribes. Management of public lands would accommodate the exercise of rights provided by treaties or law that are applicable to the planning area. The BLM would coordinate with the appropriate entities within tribal government on issues under its jurisdiction to determine appropriate protocols that provide for treaty uses of public lands.

Planning Questions
What are other resource concerns that would be of interest (i.e., water, vegetation, etc.)?

Preliminary Planning Considerations
Management Concern: Paleontological and Cave and Karst Resources
The planning area contains documented paleontological localities, as well as the potential for other cave and paleontological resources throughout the field office. These resources are only beginning to be understood and identified. Recreational activities, natural erosion, unintentional trespass, theft, and vandalism are all sources of resource degradation. Protection and management of these sites and caves include: identification, stabilization, and enhancement to maintain significant scientific, educational, and recreational values.

Planning Question

Preliminary Planning Considerations
Identify, protect, and manage caves and paleontological sites to maintain or enhance significant scientific, educational, wildlife, and recreational values
Management Concern: Visual Resource Management (VRM)
Range management, forestry, fuels management activities, and rights-of-way for utility, transportation, and communication facilities are the primary actions affecting visual resources in the LFO planning area. The BLM is responsible for ensuring that the scenic values of public lands are considered in all proposed actions that may affect visual quality. The BLM manages the visual resource by identifying visual resource values, establishing objectives for managing those values, and taking action to achieve the visual management objectives.

Planning Questions
Where are the different visual resource values within the planning area, and to what degree should they be protected?

How will the impacts to the visual resource inventory values (scenic quality, sensitivity and distance zones) be assessed individually and quantified?

Are there any visual values that are of a scarce nature and how would this be determined and managed for protection?

How will the impact on the human appreciation/use/experience of the scenic resource be accounted for within the impact analysis of visual resources?

Preliminary Planning Considerations
Management Concern: Social and Economic Sustainability of Local Communities
High economic priorities for the local communities of central Montana are agriculture, ranching as a way of life, recreation, and tourism on public lands. Commercial outfitting, guide businesses, and recreational hunting associated with deer, antelope, and upland game birds are also factors influencing the local economy. Forest health concerns, including emphasis towards fuels management in the wildland/urban/rural interface, continue to increase the importance of extracting timber products from public lands, thus creating jobs within local communities.

Planning Question

Preliminary Planning Considerations